From the Inverclyde Council website

Artefacts, archives and exhibits from Inverclyde Council's McLean Museum and Watt Library are going on display in their temporary new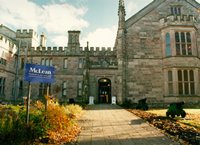 home from Monday 7 August 2017.
The new Inverclyde Heritage Hub is now ready to receive visitors at the former Business Store on Cathcart Street in Greenock.
The historic McLean Museum and Watt Library complex is currently closed ahead of a £2 million refurbishment.
The Inverclyde Heritage Hub is open Monday to Saturday from 10am to 5pm providing access to local and family history resources, a learning suite with free internet access, research & study space, microfilm readers, Archives services, selected Museum displays children's activities, and a coffee machine.